MG HS Debuts in "Hormone Factory" in the First "Night Review" in the World
August 8, 2018
"Hormone SUV" with Acceleration to 100 km/h in 7.5 Seconds and a Breaking Distance of 36 Meters Becomes the Most Anticipated Model in the Second Half of the Year
In the hot gaze of all people, MG HS, the first "Hormone SUV" in the world, stands in the middle of the pool. Its enchanting charm isn't concealed by the dim night and its hormone level rises in the glistening light of waves. People compete to take photos as soon as it comes out.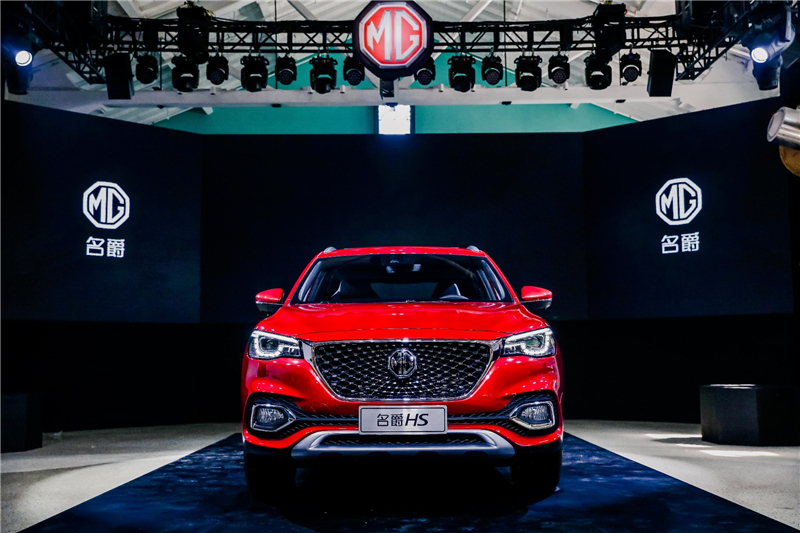 On August 6, MG HS debuted in "Hormone Factory" in Shanghai in the first "night review" in the world, attracting many young trendsetters, social media influencers and internet celebrities. They joined "Hormone Youngsters" test and shared "Hormone Reports" on site, while the most enchanting MG HS stimulated young hormones with its "full-sense" new experiences in sight, sound, smell and touch, and showed its hormone aura that can't be found in joint-venture luxury models like Benz GLA and Audi Q3 with its super performance of acceleration to 100 km/h in 7.5 seconds and a breaking distance of 36 meters, gaining crazy support from the young people. Soon, MG HS will appear on the market in September, which will blow up the "Hormone" level with the young people all over the world by then.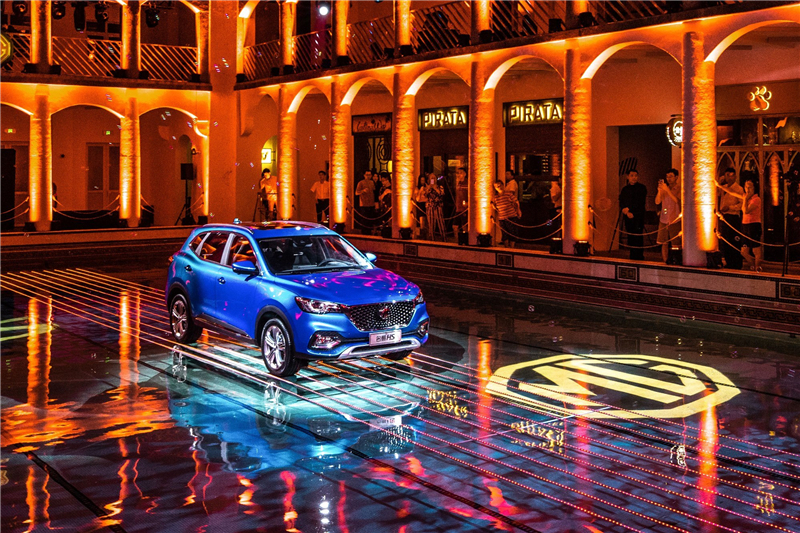 In the "Hormone Factory" Building at the popular landmark, the debut of MG HS in the night made all audience excited
The debut for MG HS with hormones wouldn't be ordinary. In the "Hormone Factory" built among nearly 50 thousand square meters of Baroque architecture in Columbia Circle, a super popular site in Shanghai and the only one trend landmark with swimming pool in Shanghai, it had a fierce hormone competition with the young people. Coincidentally, MG is a sports car brand that came out of Oxford, England in 1924 while Columbia Country Club (now Columbia Circle) was built in the same year. This encounter will collide with the hormone energy that has spanned nearly a hundred years.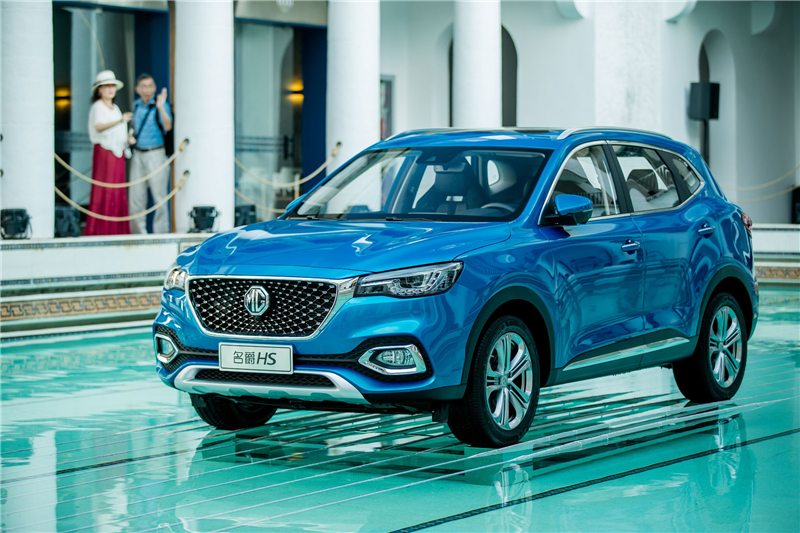 "Hormone SUV" with acceleration to 100 km/h in 7.5 seconds and a breaking distance of 36 meters becomes the most anticipated model in the second half of the year
People with high-level hormones at the site were all teased by the "Hormone Factory". Especially in the link of the processing and refining of "Hormone Youngsters", they were addicted to the sound of Bose in the music releasing cabin and reluctant to leave; in the magic fragrance cabin, many people formulated exclusive "Hormone" fragrance and the "fragrance competition" at site was fierce; in the super-speed pleasure cabin, due to the super dynamic pleasure of acceleration to 100 km/h in 7.5 seconds, they couldn't control their faces. Many people took the chance to take photos when the hormone levels of their companies rose quickly; the hormone test cabin capturing the heartbeat frequency was a pass that couples and potential couples would try.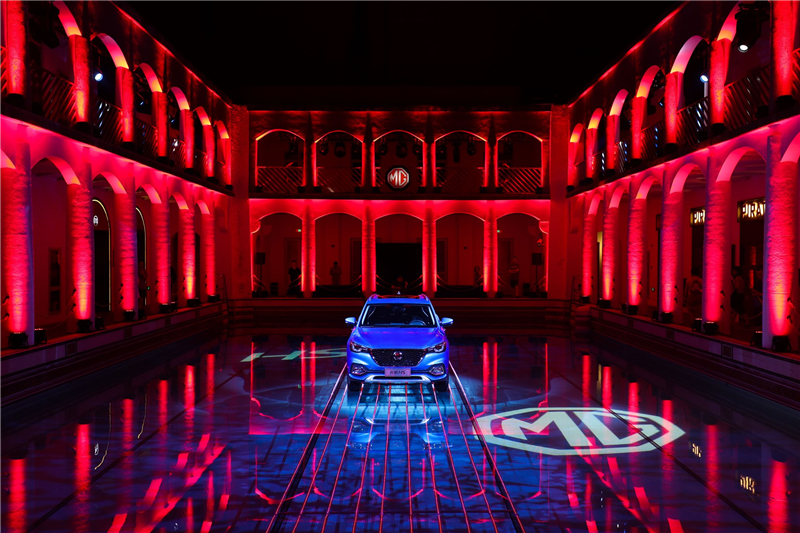 In the "Hormone Factory", you will love its style deeply, and your hormone level will rise quickly because of music, fragrance, speed and passion. Seeing the "Hormone SUV" MG HS at the middle of the popular pool, your passion will be aroused again. As a mainstream SUV in mass production with pure surface and shadow shoulder line design, the whole MG HS presents all-round perceptual curve and the perfect shadow flowing in light and water and bursts forth the sweaty attractiveness. With such a fascinating "night review" style, we have to admit that "Hormone SUV" really deserves its position in the center.
Get to know the popular "Hormone Youngsters", and have fun in MG's creative interaction
Some of the "Hormone Youngsters" going to the "Hormone Factory" were collected on the streets of Shanghai. In the collection of "Hormone Youngsters", internet celebrities, fitness fanatics or any random passers-by with high hormone level would be "collected." It's said that a host of a program was "collected" on site. He was "distained" and sent to "Hormone Factory" as his mouth was "sealed" and hands were "tied". After the video was released, many fans teased. "Fight back with your mouth!" "Do they kidnap to have you commentate on site?" It turned out that we're all punsters, which will renew the hormone index of the city.
"Hormone SUV" with acceleration to 100 km/h in 7.5 seconds and a breaking distance of 36 meters becomes the most anticipated model in the second half of the year
While it was passionate offline, we have never stop have fun online. In recent days, the topic of "Hormone Youngsters" which has triggered great discussion among netizens was launched by MG, making brands like Durex, Coca Cola, Pringles and Paul Frank join one after another. Durex said, "There is a special voice related to hormones that needs lovers to arouse with us" and Bose couldn't control itself and said, "Turn the button to the most moving tone and frequency to ears", making Coca Cola chip in imposingly, "Opening the bottle, your hormone level will be woken up immediately by the squeaky sound of bubble." As the "hormone alliance" is getting bigger and bigger, more splendid replies and classic statements have come out frequently, quickly becoming a large-scale hormone event which has attracted all netizens. It seems that MG which has been always young in the last 100 years really knows how to have fun.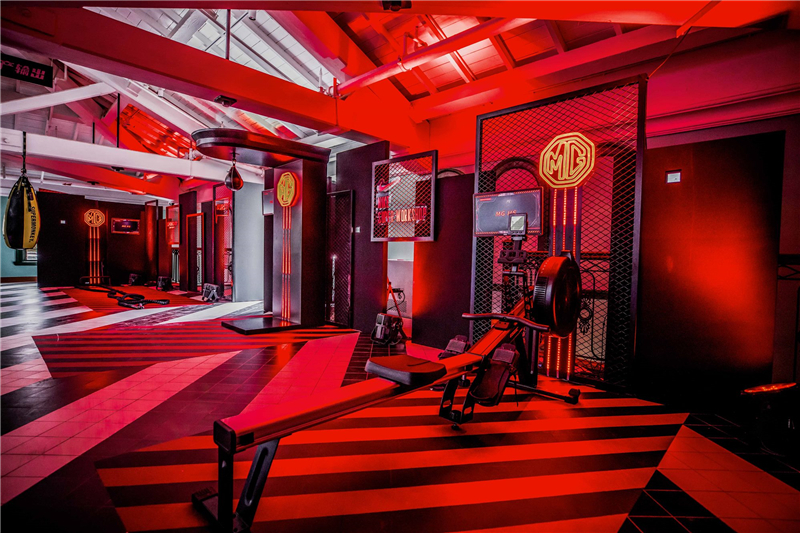 If you also want to experience high-level "Hormone," make sure you won't miss "Hormone Factory" from August 9 to 12. During the daytime, practice to sweat with professional fitness coaches using apparatus; at night, enjoy the light show at the pool, night skating and Silent Disco exclusive to Bose, unlocking the double hormone "feelings".
"Hormone SUV" with acceleration to 100 km/h in 7.5 seconds and a breaking distance of 36 meters becomes the most anticipated model in the second half of the year
In fact, MG which has been leading the young people to unlock new playing ways is actually relying on its strength in "competition". Now it will lift a new development era of SUV with "Hormone SUV" MG HS. SUV's growth slowed down for the first time in this year, reflecting the dull market pattern with homogeneous competition and weak demand causing by the simple pursuit of space, configuration and cost performance of automobile manufacturers in the lucrative SUV market. MG which knows well the thinking of the young people, responds to young consumers' understanding of SUVs and new demands for driving experience with "Hormone SUV", which will bring the full-sense experience of luxury brand SUVs like Benz GLA and Audi Q3.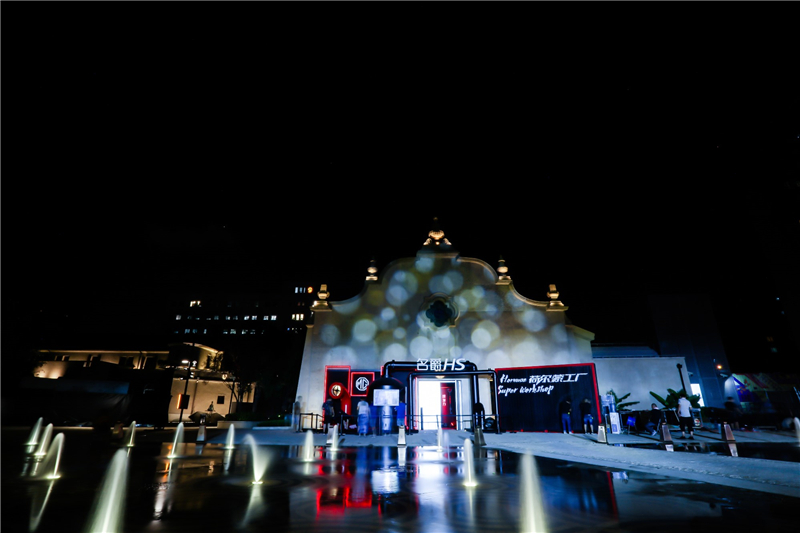 In addition to its attractive appearance, in power control, MG HS is equipped with SAIC's high-performance engine, the newly-adjusted Blue Core 30T Trophy and AWD intelligent all-wheel drive system with acceleration to 100 km/h in 7.5 seconds and a breaking distance of 36 meters, releasing driving hormones at will; as for intelligence, it is equipped with the newest and world-leading "Interconnected Smart Travel" system to provide addictive driving experience for young people "intelligently". In details, the hormone sense of MG HS can be found everywhere: cooperate with world-class Bose to stimulate auditory hormone with sound; stepless and adjustable atmosphere lamp allows the synchronization of visual perception with emotional expression; custom hormone fragrance by international perfume brand satisfies the smell enjoyment so as to achieve high-end style; integrated sports seats made with leather of centennial German Bader triggers the "driving" desire in a second.
The uncompromising full-sense new experience will surely allow MG HS to push the hormone-supplied boutique SUV era ahead of schedule. It is worth looking forward to the driving awareness that will be refreshed by "Hormone SUV" MG HS in the future!