SAIC Motor shines at Auto Shanghai 2023
April 22, 2023
At the ongoing 20th Shanghai International Automobile Industry Exhibition (Auto Shanghai 2023), SAIC Motor, China's largest carmaker, impressed visitors with its over 130 new vehicles, nearly half of which are new energy vehicles (NEVs).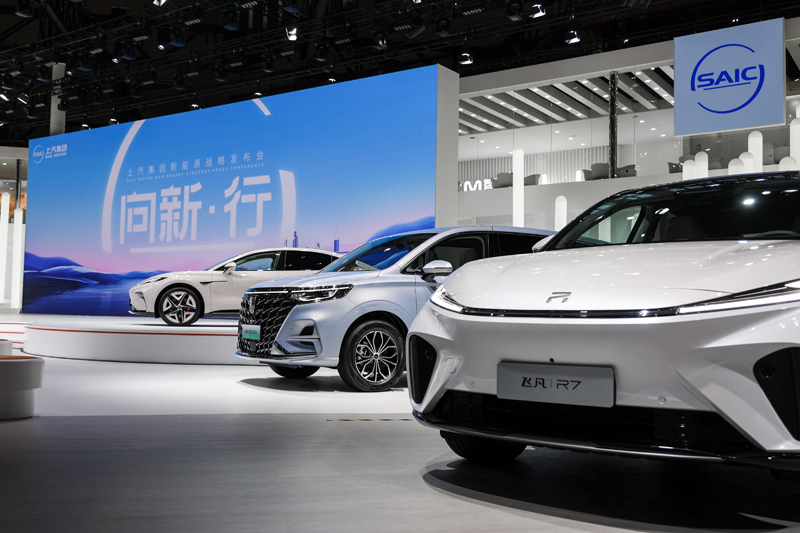 SAIC Motor's exhibition area covers more than 20,000 square meters, and the carmaker is showcasing its new vehicle models from its six self-owned brands and joint ventures - IM Motors, Rising Auto, SAIC Motor Passenger Vehicle Company, SAIC Maxus, SAIC Volkswagen and SAIC-GM.
In face of the profound changes in the automobile industry, SAIC Motor is pursuing the goal of "creating a safe, efficient, convenient and comfortable mobility experience full of fun for users", stepping up efforts to promote transformation and innovation, and accelerating its pace in the development of NEVs and intelligent connected vehicles (ICVs). At the Auto Shanghai 2023, the carmaker unveiled a three-year action plan for the development of NEVs. According to the plan, its annual sales of NEVs will reach 3.5 million units by 2025, 2.5 times the 2022 figure, with a compound annual growth rate of 50 percent. Among them, sales of its self-owned brand NEVs will account for 70 percent of its total NEV sales.
SAIC Motor will also make continuous efforts to optimize its brand strategy. Its self-owned brand IM will be developed into a "high-end pure electric and intelligent vehicle brand", and its Rising Auto and Roewe are expected to become the "preferred NEV brand" for Chinese consumers, while its MG has set an ambitious goal to become a world-renowned vehicle brand. In the next three years, IM will launch four brand-new vehicle models, and Rising Auto, Roewe and MG will release more than 13 NEV products.
The carmaker will continue to support technological innovation to create an exciting ride experience for its users. Through technological innovation, it will provide users with high-quality products at low prices, and promote vehicle integration capabilities and technological innovation advantages to provide users with the smartest, safest and most comfortable driving experience.
In the future, SAIC Motor will adhere to the user-oriented development strategy, and focus on the development of NEVs and ICVs, aiming to cultivate a slew of leading independent vehicle brands, foster distinctive advantages, and develop more popular products.